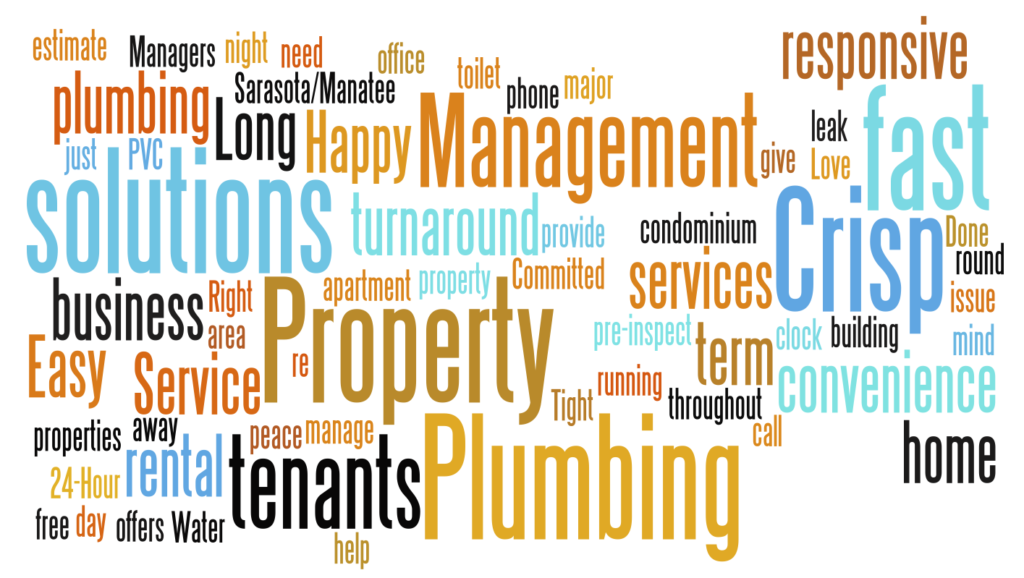 Property Management Plumbing
Wouldn't you like to know your plumbing is in order when you are preparing your home, apartment, condominium, business or office building for rental? Crisp Plumbing is able to complete your plumbing repair or remodel project in a timely manner and offer the latest innovations offered by the plumbing industry.
Call Crisp Plumbing today to help you manage your properties and give your tenants peace of mind that their home or business is Water Tight Done Right. We can pre-inspect your property and provide a free estimate of plumbing services to bring your rental up-to-date.
We can help you maintain your current properties with a variety of the latest plumbing services; from running a camera through the Sanitary system to inspect what shape it is in, jetting the existing system to clean it out or replacing an old cast iron sanitary system with PVC. Whether you need a supply stop replaced or re-piping the potable water system with CPVC, Crisp Plumbing can handle the job with competitive pricing.
24-Hour Service
Whether it's a leak, a running toilet, or a major plumbing issue, Crisp Plumbing is ready to handle your problem. If you simply want to replace an old fixture or upgrade to the newest style, we have access to the latest technology and brand names.
Committed to being there when you need us, Crisp Plumbing offers round the clock services throughout the Sarasota/Manatee area. We're just a phone call away – day or night!
Property Managers Love Our Service!
We have being working with property management companies for years, and they have recommended us to their tenants and property owners. Our extensive plumbing experience and knowledge of how to fix difficult plumbing issues, means we can diagnose and fix problems faster and also be cost-effective.
Please call (941) 927.9700 today to discuss how Crisp Plumbing can help you make sure the plumbing in the property you manage is "Water Tight. Done Right."